BE PART OF THE HINSDALE ADVANTAGE
INNOVATIVE PROGRAMING, EDUCATING, AND SUPPORTING
THE WHOLE CHILD
Please contact Ann Diorio for a substitute application 603-336-5728 ext. 7684 or
adiorio@hnhsd.org

The complete application packet includes a cover letter, resume, three letters of reference, and appropriate application below
HASP Hinsdale After School Program Positions
Hinsdale Elementary School
Kindergarten through 5th Grade Teachers
Reading and Writing Specialist
Para Educators
Hinsdale Middle High School
Assistant Principal
High School English Teacher
Life Skills Teacher- Anticipated Opening
Para Educators
Please contact Ann Diorio 603-336-5728 ext. 7684 or
adiorio@hnhsd.org
Job Descriptions
HES Teacher
Reading and Writing Specialist
Assistant Principal
HHS Teacher
Special Education Teacher- Case manager
SPED Para Educator-Job Description
DISCTRICT OPENINGS FOR THE 2021-2022 SCHOOL YEAR
Director of Curriculum, Instruction, and Assessment This positions starts July 1, 2021
Qualifications:
• A Master's Degree or higher from an accredited college or university with a major in curriculum
• NH certification as a Curriculum Administrator, or Assistant Superintendent or Superintendent; or proof of eligibility
• A combination of at least five (5) years of successful experience in teaching and/or school administration in a K-12 setting.
• Proven ability to maintain effective working relationships with others.
• Ability to communicate clearly & effectively, both orally & in writing
• Demonstrated proficiency with educational technology.
• Such alternatives to the above qualifications as the School Board may find appropriate and acceptable.
Job Description
Director of Curriculm and Instruction and Assessment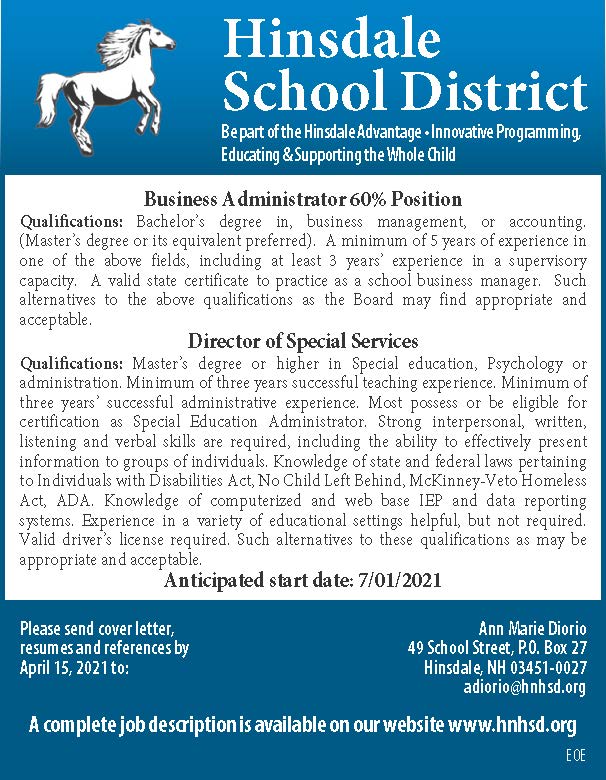 60% Business Administrator-
SAU #92, the Hinsdale School District, is seeking applications for a Business Administrator position. The position starts July 1, 2021
This position is responsible for business, financial/accounting, transportation, food service. School experience preferred. The successful candidate will have strong financial and technology skills and an appreciation for a systems approach. Knowledge of governmental accounting and financial reporting standards, government auditing standards, State Statutes & State Board of Education rules. Experience and skill in the use of Infinite Visions software. Multi-task and communicate orally and in writing.
• Coordinates and completes the budget process with the School Board, School District Administrators, and the Budget Committee;
• Completes all filings, postings, and reports required by the Department of Education and the Department of Revenue in compliance with the law and on a timely basis;
• Participates directly and/or advises in the collective bargaining process;
• Works closely with Human Resources and accounting to coordinate employee information, pay, benefits, timekeeping, leave, and CBA requirements;
• Ensure the accuracy of all financial transactions and recordings;
• Maintains and reviews the District's General Ledger to ensure completeness and accuracy of the expenditures and encumbrance amounts and account coding.
• Oversees the processing of the District's purchasing transactions to ensure processing consistent with the State statutes, State School Board rules, Hinsdale School District policies and procedures;
• Responsible for the projection of revenues, expenditures, bonds, and grants.
• Must know bidding procedures and district policies.
Business Adminstrator- Job Description
Director of Student Services
Qualifications: Master's degree or higher in Special education, Psychology or administration. Minimum of three years of successful teaching experience. Minimum of three years' successful administrative experience. Must possess or be eligible for certification as Special Education Administrator. Strong interpersonal, written, listening, and verbal skills are required, including the ability to effectively present information to groups of individuals. Knowledge of state and federal laws pertaining to the Individuals with Disabilities Act, No Child Left Behind, McKinney-Veto Homeless Act, ADA. Knowledge of computerized and web base IEP and data reporting systems. Experience in a variety of educational settings helpful, but not required. Valid driver's license required. Such alternatives to these qualifications as may be appropriate and acceptable.
Director of Special Services- Job Description

Complete application packet includes, cover letter, resume, three letters of reference and appropriate application below
Application – HASP/Van Drivers/Coaches/Custodians/ Director of Maintenance/Administrative Assistant/ Receptionist
Para Application
Certified Application